ALBERTO VEDELAGO - THE ROLE OF CLOTHING IN BUSINESS SUCCESS
*Maestro di Eleganza Alberto Vedelago held a public lecture at Plovdiv University "Paisii Hilendarski"
*The Italian designer and stylist received a special award from the Rector's office – the honorary plaque "Paisii Hilendarski"
Ivana Stoyanova
World-renowned Italian designer and stylist Alberto Vedelago held a public multimedia lecture on the role of clothing in business success. The event was organized by the Academy of Fashion, PU "Paisii Hilendarski" and the "Marketing and MIO" department. The lecture was held at the sixth hall of the university, attended by 200 students and professors in law, business, economics, international economic relations, public relations and public communication. The moderator of the lecture was Prof. Lubomir Stoykov - chairman of the Academy of Fashion, who introduced the guest as not only a designer, but a philosopher, aesthetician, cultural scientist and a true master in the art of personal clothing creation. Prof. Stoykov also noted: "It is wonderful that there are artists such as maestro Alberto Vedelago - a true citizen of the world of fashion! With his unique culture and aesthetics, he is an invaluable model of unity between top-class fashion design and personality of style. Thanks to stylists like him, clothing fulfils its sacred function - to be comfortable, to send the right message and to play the role of an indispensable factor for success - personal and professional... "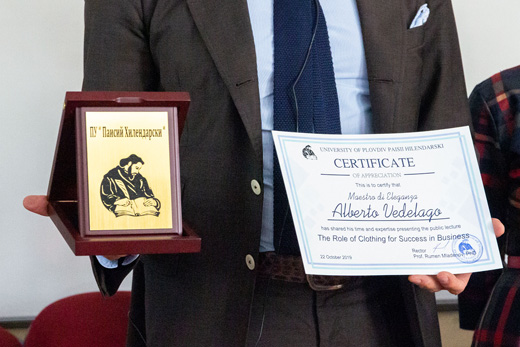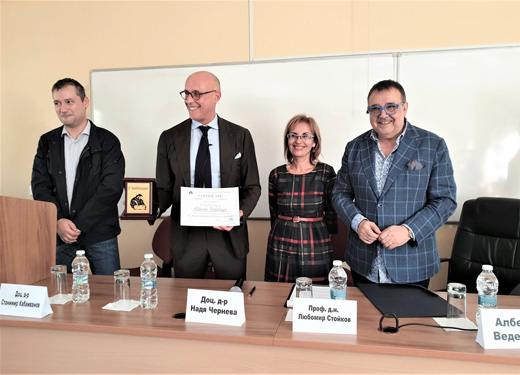 At the start of the lecture Assoc. Prof. Dr. Nadia Cherneva – deputy-rector for international cooperation, academic mobility, public relations and protocol awarded Maestro di Eleganza Alberto Vedelago with the honorary plaque "Paisii Hilendarski" from the name of Rector Prof. Rumen Mladenov. The Maestro di Eleganza also received a special certificate as a thank you gesture for his visit to the university. "This meeting is very significant to us today and I hope it will not be the last. We believe that after this lecture everyone present here will achieve harmony between an elegant appearance and an intellectual essence, which will help us leave the best impression." said Assoc. Prof. Dr. Cherneva. The other officials at the event were Assoc. Prof. Dr. Stanimir Kabaivanov - Dean of the Faculty of Economic and Social Sciences, and Assoc. Prof. Dr. Teofana Dimitrova - Head of the Department of Marketing and MIO.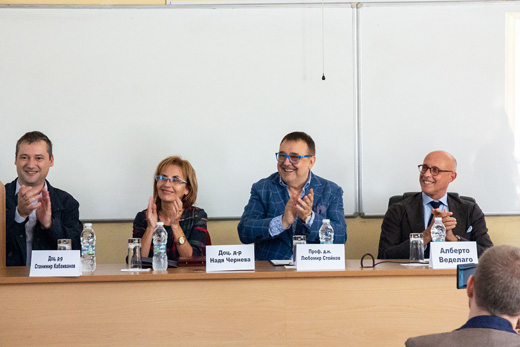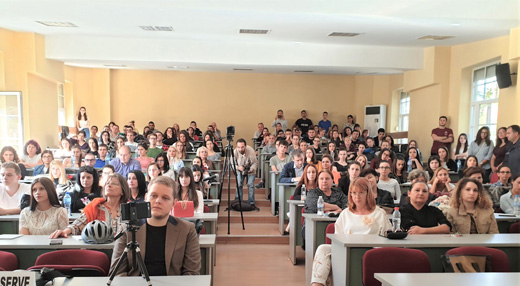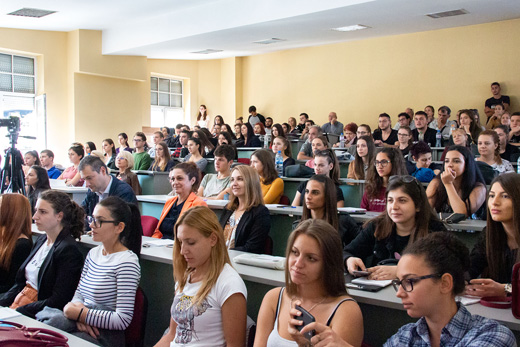 Italian designer and stylist Alberto Vedelago said that he is a specialist in men's clothing, but will also comment on the rules for women's business clothing. Maestro di Eleganza noted that with his advice, he hopes that students at PU Paisii Hilendarski can achieve maximum success in starting their professional development.
During the lecture on the direct connection between clothing and business success, Alberto Vedelago focused on how elegance adds value and brings more success in personal and professional terms. He also highlighted important rules when preparing for an interview or a first meeting with a client, giving advice on various situations and pointing out common mistakes. "Sometimes in business situations, women can't find the border between being noticed and the risk of looking too aggressive," noted Maestro di Eleganza. He also shared various examples of his practice and demonstrated to students how to distinguish a quality jacket that is handmade without adhesive materials. Highlights of the lecture were the problems associated with mass production and the low quality of workmanship and materials. At the finale, the guest answered a number of questions raised by the audience and gave everyone in attendance a copy of his book "Return ticket to suit and tie".
After 30 years of experience in the international fashion scene, Alberto Vedelago established his own brand ACCADEMYA and is dedicated to creating individual elegance for every man. He took to heart the mission to promote worldwide the Italian philosophy of elegance. In his work, Alberto Vedelago travels around the world - from America to Australia - to help men discover the secrets of elegance. Once a month he comes to his studio in Sofia to help Bulgarian men discover their own style and the benefits of a personalized suit that adds value.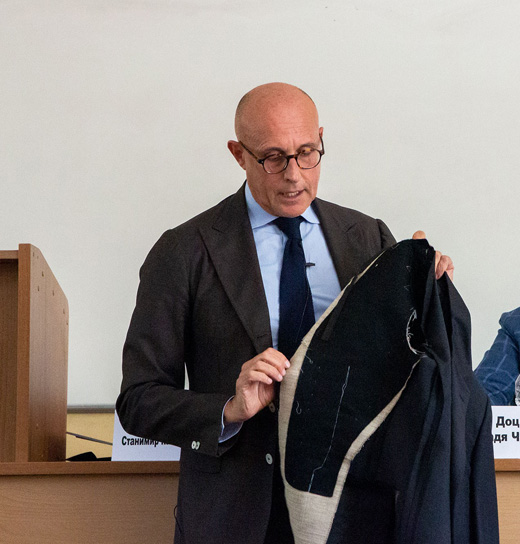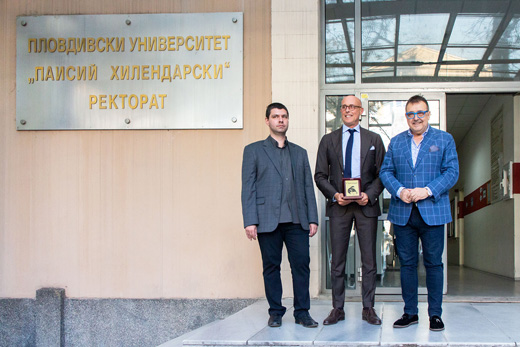 Maestro Vedelago is the creator of an innovative method by which he creates clothes, taking not only the "physical" measurements of his clients, but also those of their personality. He defines himself as a Personalitailor - a "tailor of the personality" because in the personal creation of the garment he takes into account the individuality, character and inner world of the person. Alberto Vedelago is convinced that the most valuable thing he does is to help men find and create their own style. This applies both to people like Fabio Lamborghini, who trusts his appearance to Maestro Vedelago, as well as other entrepreneurs and representatives of different political, business and cultural backgrounds.
Photos:
1. – 3. Assoc. Prof. Dr. Nadia Cherneva awarded Alberto Vedelago with the honorary plaque "Paisii Hilendarski" and a certificate.
4. Assoc. Prof. Dr. Stanimir Kabaivanov, Assoc. Prof. Dr. Nadia Cherneva, Prof. Lubomir Stoykov and Alberto Vedelago (from left to right).
5. – 6. Students showed great interest with Alberto Vedelago's lecture.
7. Alberto Vedelago demonstrates a quality handmade jacket.
8. Alberto Vedelago presented a copy of his book "Return ticket to suit and tie" to everyone present at the lecture.
9. Dr. Lubomir Stoychev, Alberto Vedelago and Prof. Lubomir Stoykov after the end of the lecture.
Photo: Veselina Baltova
Read: 1054 times © Fashion Lifestyle Magazine, issue 104, December 2019
MORE PUBLICATIONS:

ISSUE 102:

SEA BREEZE AND NEW TRENDS AT SUMMER FASHION WEEKEND

ISSUE 102:

SUMMER FASHION WEEKEND BEGINS WITH FASHION AND A SUMMER SPIRIT

ISSUE 102:

PROGRESS IN THE RELATIONS BETWEEN THE KINGDOOM OF MOROCCO AND BULGARIA

ISSUE 101:

SUMMER FASHION PARTY 2019: LOVE, PASSION AND CREATIVITY

ISSUE 101:

GLAMOROUS PREMIERE OF THE BOOK "100 MEETINGS WITH ME"