AXEL HARDY PRESENTS A COMPLETELY SEAMLESS COLLECTION WITH 0% WASTE
Silviya Todorova
The winner of the Golden Needle for fashion innovation - designer Axel Hardy - will present the SHE collection - designed and created specifically for BG Fashion Icon 2019. The collection is dedicated to the modern and charismatic woman in fashion and other spheres of life. The clothes are completely seamless - made of rectangular details connected with cords.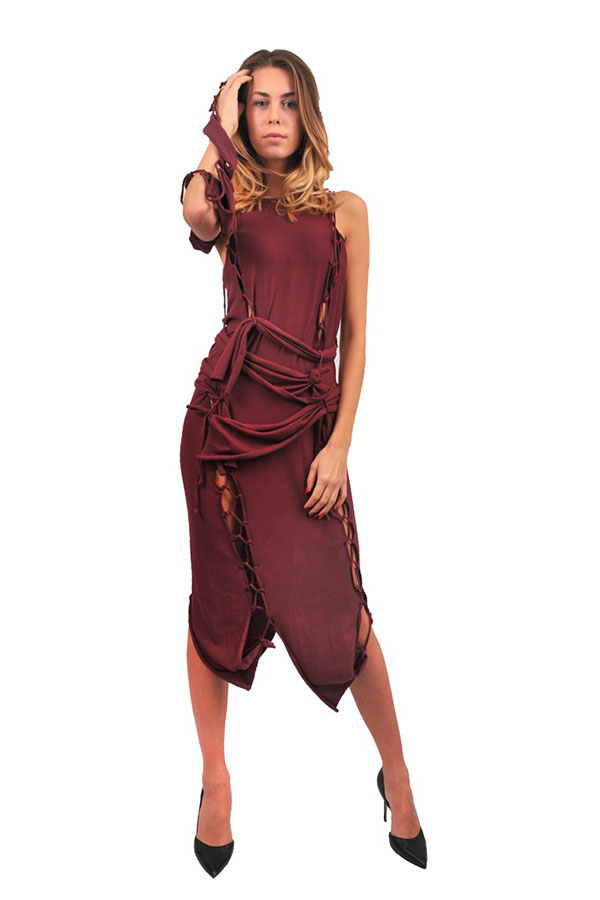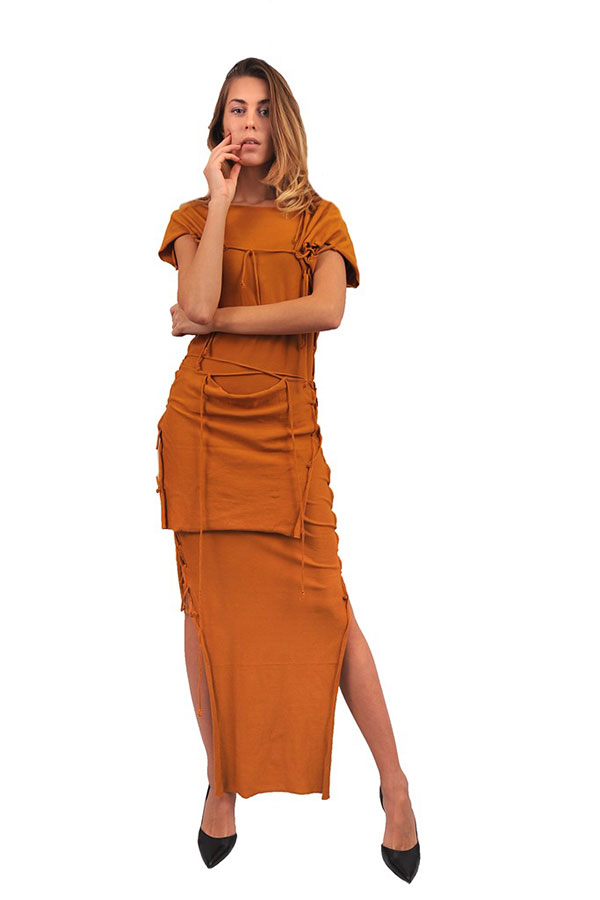 The rectangular shapes emphasize the feminine curves of the body and are finely knit from yarn - a mix of wood viscose and wool, rust, burgundy, rocky gray and laminated black and bronze. All the clothes in the collection are made personally by the designer who says: "I was provoked by a question from a journalist" Is zero waste production possible?" But the question continued to bother me, and I found this a way to seamlessly create high-grade, 0% waste off-the-shelf clothing.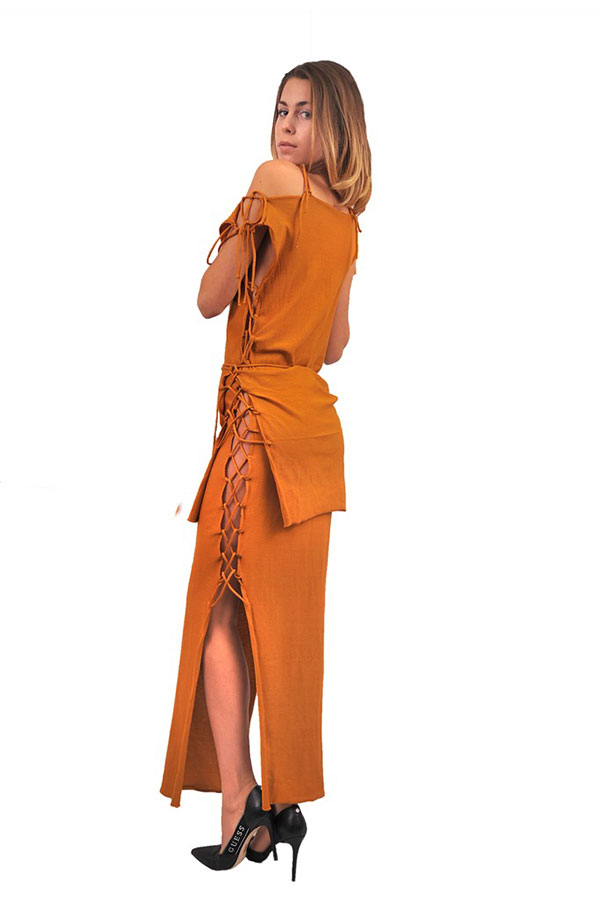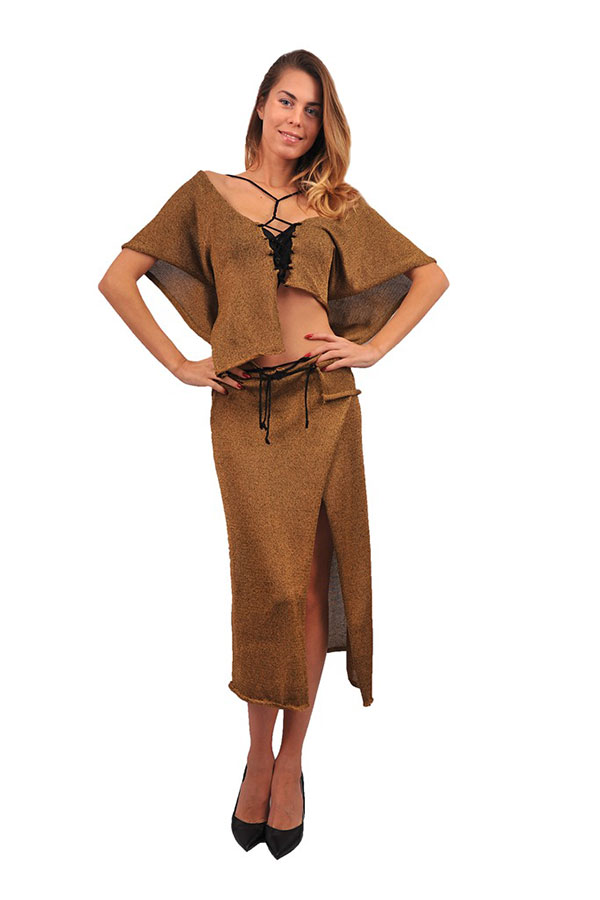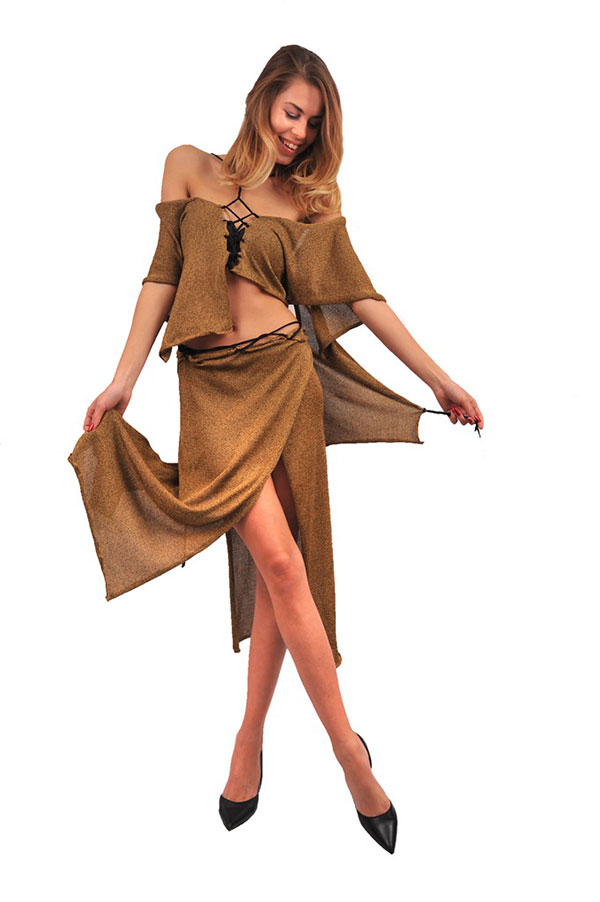 "Every outfit in the She Collection can be transformed and worn from formal to casual style, depending on combinations. The same garment is combined with a wedge, bodysuit and cubes during the day, and in the evening with lace, formal shoes and accessories. A suitable complement to any of the suggestions in the collection can be found in the line of women's coats that the designer creates for the first time. Axel Hardy presents the woman as beautiful and feminine, who expresses herself with an independent and strong spirit: "She" - the woman, the power, the beauty, "She" - womanhood, charisma, love, "She" - the independent, "She" - herself!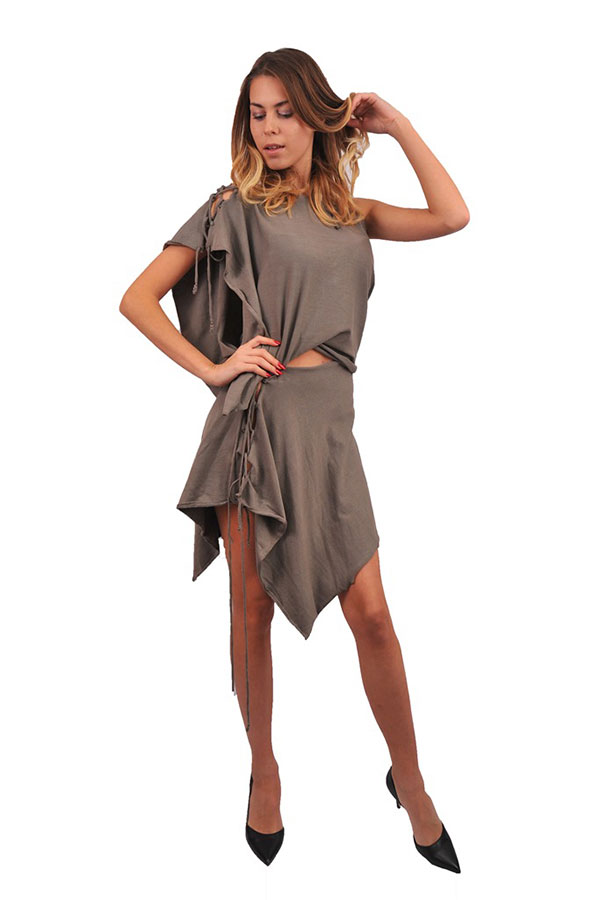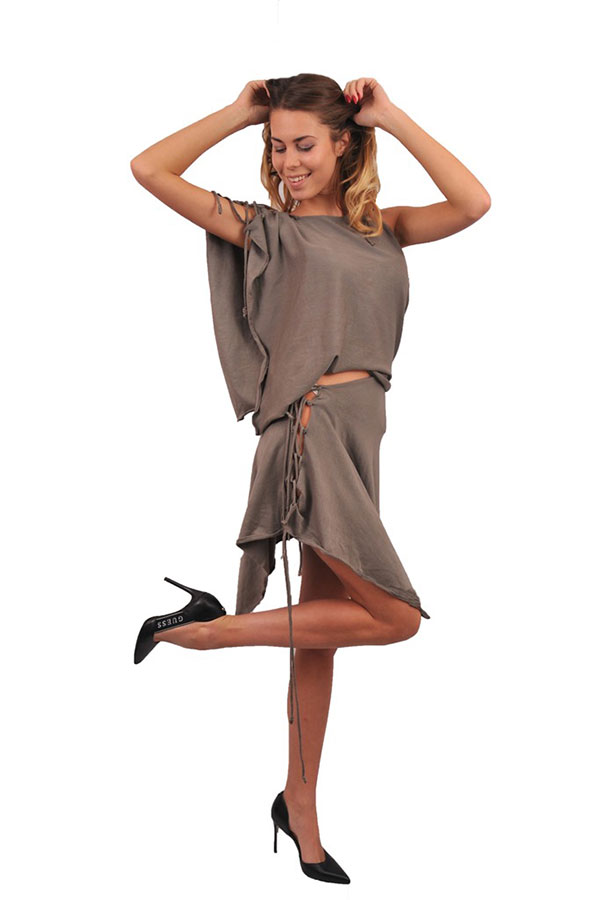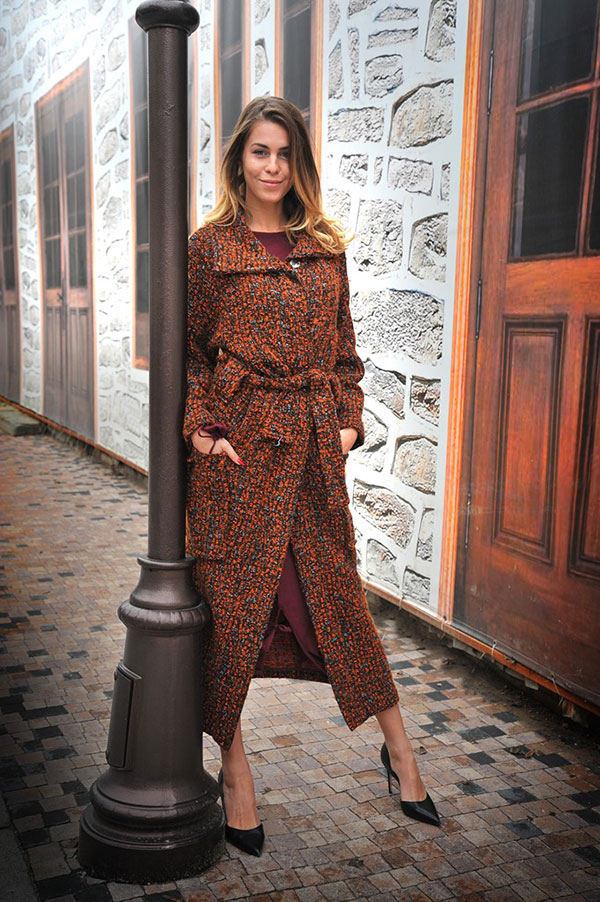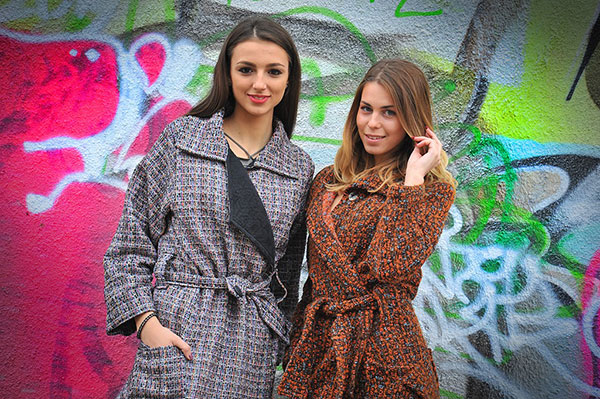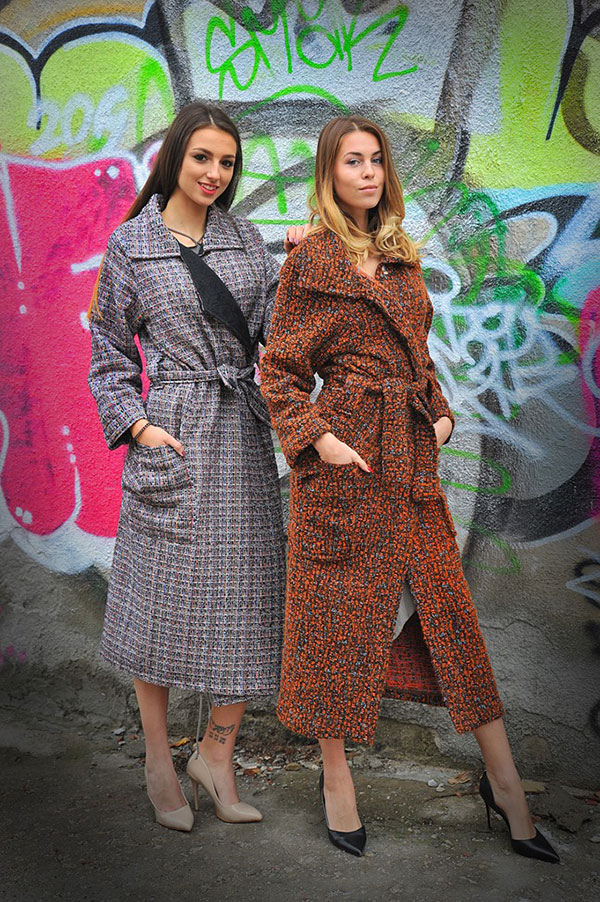 Photos:
Outfits from the "She" Collection with designer Axel Hardy.
Photo: Neno Valkovski
Read: 2451 times © Fashion Lifestyle Magazine, issue 104, December 2019
"BG FASHION ICON" 2019 NOMINATIONS BY THE ACADEMY OF FASHION
Silviya Todorova
For the eleventh consecutive year, the most prestigious awards for style and elegance by the Academy of Fashion - BG Fashion Icon - will be presented. According to a well-established tradition, the expert council of the Academy of Fashion, including distinguished lifestyle, fashion and secular journalists, and editors of leading press and electronic media, submitted their nomination proposals for the most stylish and successful Bulgarians in 2019. As before, the criteria for famous Bulgarian personalities to receive the status of BG fashion icons are qualities and virtues such as sophisticated and modern taste and style, professional achievements, impeccable culture, morals and reputation.
The most stylish and elegant Bulgarian women nominated are (in alphabetical order): Aleksandra Petkanova, Aleksandra Sarchadjieva, Desislava Stoyanova, Diana Dimitrova, Ivet Lalova, Maria Ilieva, Mira Dobreva, Mihaela Fileva, Raina Kabaivanska, Slavena Vatova. Nominations for the most stylish and elegant Bulgarian men include (in alphabetical order): Alexander Kadiev, Bashar Rahal, Vanja Dzaferovic, Vasil Petrov, Vladi Ampov-Grafa, Grigor Dimitrov, Dimitar Berbatov, Ivaylo Zahariev, Ivo Arakov, Nikolay Doynov. Prof. Lubomir Stoykov, chairman of the Academy of Fashion, said: "I believe that with the choice of the most stylish and successful Bulgarians this year's competition will give new aesthetic, cultural and social guidelines for success and good reputation. Usually, the nominees are dominated by personalities who have become the benchmark for excellent public behaviour and high visual culture. They are not only from the media, but also from the artistic, music and sports fields. I am particularly pleased that Raina Kabaivanska has been nominated for her unique style and the great opera singer achievements.
Thank you to all my fellow lifestyle journalists from reputable media outlets who have suggested these nominations! "Online voting starts on November 6th and will last until November 26th. Anyone wishing to participate in the vote can do so at the following website: http://www.fashion-lifestyle.bg/igra.php.
Organizers and sponsors have provided attractive prizes for the well-known voting results. The award, which will be given to the winners of the BG Fashion Icon Award, is a statuette, made by the unique Bulgarian jeweller Angelo Krasini. The statuette is an interpretation of Adam and Eve's first outfit - the fig leaf – engraved with images of the most famous designers and fashion icons. The exquisite award ceremony for BG Fashion Icon 2019 will be held December this year at Vitosha Park Hotel. At the fashion show part, just before the official ceremony, current collections of famous Bulgarian and foreign designers and fashion houses will be shown, as well as - by tradition - debut works of the students of Prof. Lubomir Stoykov from the National Academy of Arts. BG Fashion Icon 2019 is courtesy of: Lavazza Coffee, A1, Konica Minolta Business Solutions Bulgaria, Vitosha Park Hotel, Nedelya Pastries, MAC Cosmetics, and "Beauty club", Hair Box, Rai Catering, Jardin Florist and Fendora Real Estate Agency. For the period of its existence, the BG Fashion Icon Award has established itself as the most respected annual award for style, elegance and visual culture in Bulgaria. Among the winners of this high distinction so far are: Maya Manolova, Maya Antova, Yuliana Doncheva, Jacqueline Wagenstein, Kristina Patrashkova, Yana Marinova and Orlin Pavlov for 2018; Iliana Raeva, Gala, Iliana Zaharieva, Yordana Dimitrova, Kapka Amzina, Niki Kanchev and Niki Iliev for 2017; Yoana Bukovska-Davidova, Dilyana Popova, Tanya Skirkin, Anton Hekimyan and Luben Dilov-son for 2016; Victoria Petrova, Galena, Iliyana Alipieva, Niki Sotirov, Orlin Goranov and Plamen Konstantinov for 2015; Grigor Dimitrov, Valeria Veleva, Maria Silvester, Alicia and Velizar Sokolov - Zaki for 2014; Evgeniya Jivkova, Iva Ekimova, Teodora Duhovnikova for 2013; Lili Ivanova, Alexandra Raeva, Anelia, Orlin Pavlov and Dr. Angel Enchev for 2012; Denitsa Atanasova-Gergova, Vasko Vasilev, Maria Ilieva, Evgeniya Kalkandzhieva and Vladimir Ampov-Grafa for 2011; Gala, Vladimir Karamazov, Elena Petrova, Kalin Vrachanski and Valentina Voykova for 2010; Diana Lubenova, Tsvetelina Borislavova, Juliana Doncheva, Dimitar Berbatov and Miro for 2009.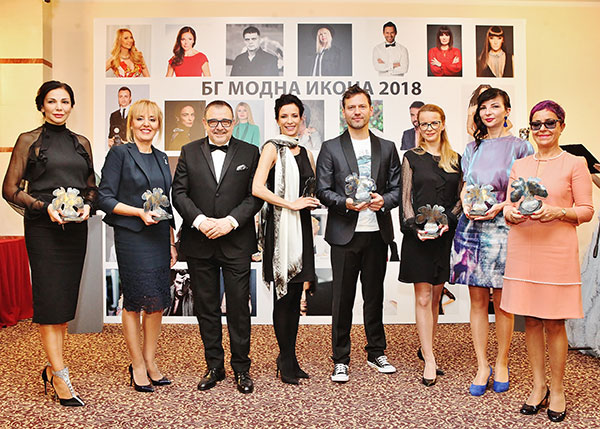 Photos:
1. The statuette "BG Fashion Icon", created by the best Bulgarian jeweler - Angelo Krasini.
Photo: Personal archive
2. The winners of "BG Fashion Icon 2018" together with Prof. Lubomir Stoykov.
Photo: Hilife / Academy of Fashion
Read: 2455 times © Fashion Lifestyle Magazine, issue 104, December 2019
MORE PUBLICATIONS:

ISSUE 102:

REFLECTIONS 2020 - THE NEW BRIDAL COLLECTION BY RADI LAZAROVA

ISSUE 101:

VENETA RAYKOVA TURNS THE LITTLE BLACK DRESS INTO A MODERN GARB

ISSUE 101:

THE ACADEMY OF FASHION SUPPORTS THE PRESIDENTIAL CAMPAIGN.

ISSUE 100:

AXEL HARDY SHOWED OFF KNITWEAR FASHION INNOVATIONS

ISSUE 99:

GLAMOROUS FASHION SHOW FOR BG FASHION ICON 2018