International fashion design competition Men`s Style
The Men's fashion cluster organizes International fashion design contest for designers, best fashion photographers and filmmakers and the theme is: 'Men's suit - modern and practical'.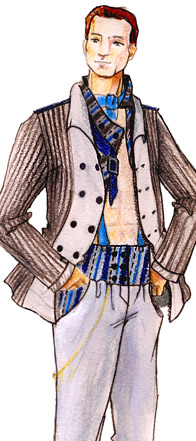 The main aims of the project are to make the suit more attractive and practical in everyday life of men, teenagers and children, to preserve made-to-measure traditions and to promote the use of wool fabrics, which allows the clothes to breath, being ecologically clean, practical, light and fine.
Designers who use wool fabrics can receive support from MFC to produce their collections.
The project offers also specific business opportunities, for preserving and opening new working places in the men's suit industries. The MFC will support people with business ideas and willingness to achieve successful business realization.
The contest has two stages:
- Monthly online contests (from January 2014 to December 2014);
- Revue-spectacle on August 22, 2014 in Zheravna, Bulgaria.
In the contest can participate young and approved designers from all over the world who are at least 18 years old.
For participating in the contest please send via email contest@mens-fashion-cluster.com:
- up to 10 sketches or pictures of men's suits made by your design;
- description of the concept and the models;
- declaration that the models are yours (free writing);
- short presentation/autobiography (profile in the Social networks, articles for you in internet, your own website, blog, etc.).
Some of the prizes for the designers are:

- training for the realization of a business plan for own made-to-measure atelier

- providing all materials and sewing the designer collections

- creating the brand name of the designer

- photo shoot of the designer collection

- inclusion of the collection in the e-shop platform of MFC

- designers will receive a percentage of the sales of their models

- PR campaign for the designer and his/her collection in the media partners of the project

- inclusion of the collection in a commercial catalog (monthly edition)

- participation of the designer collection in an international fair in Europe or North America


For more information visit: www.mensstyle.org


Read: 15503 times © Fashion Lifestyle Magazine, issue 68, October 2013
MORE PUBLICATIONS:

ISSUE 35:

VIVIENNE WESTWOOD:" I JUST WANT TO SCREW UP EVERYTHING!"

ISSUE 29:

FRANCO MOSCHINO: "fashion shows can be dangerous for your health"

ISSUE 28:

NINO CERRUTI - eternal revelation of elegance

ISSUE 27:

Gianfranco ferre: "I am designer even in my soul"

ISSUE 26:

ELSA SCHIAPARELLI - aesthetics of eccentricity