AXEL HARDY SHOWED OFF KNITWEAR FASHION INNOVATIONS
*The designer created a unique double-faced jacquard
**Smart fabrics, organic dyeing, transformations and infinite imagination
Silviya Todorova
Innovation in knitwear was presented by designer Axel Hardy. Mixing fabrics, different machining methods and dyeing techniques are at the heart of the innovative approach of the designer, who has been experimenting with her knitting work for 25 years. A peculiar peak in her work is a unique fabric - double-faced jacquard, developed by her personally. At the press conference, Axel Hardy showed off selected knitwear and demonstrated interesting transformations of multifunctional clever garments.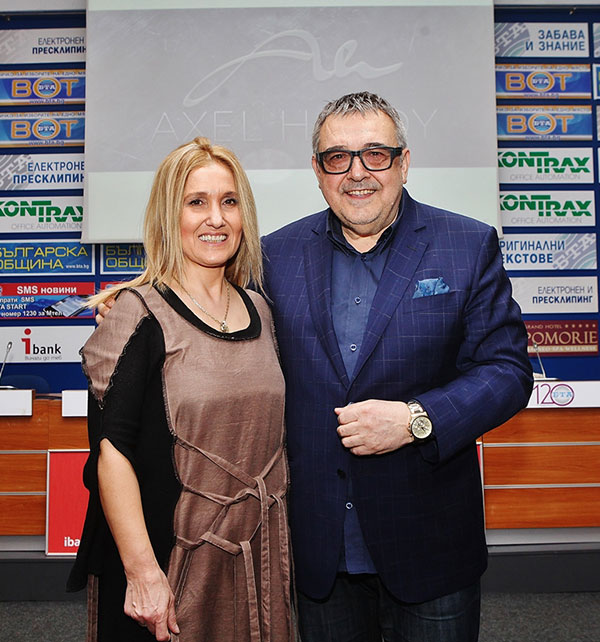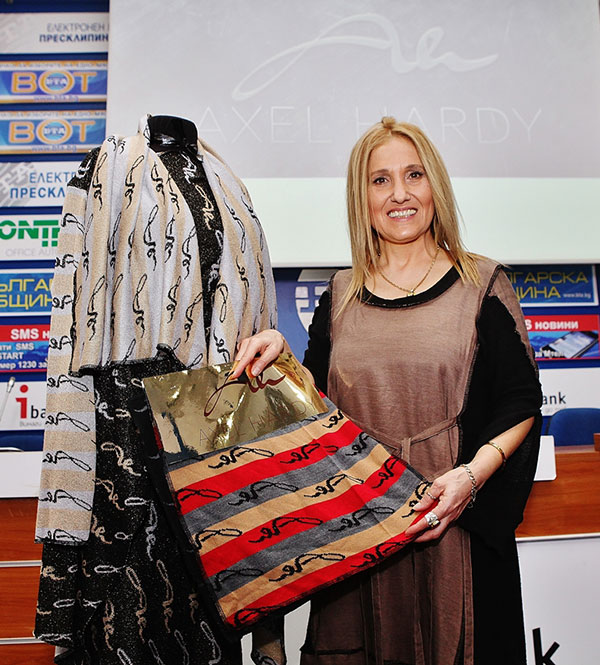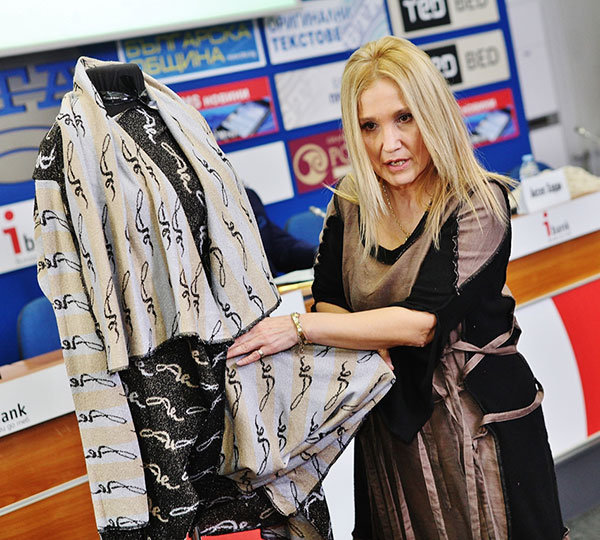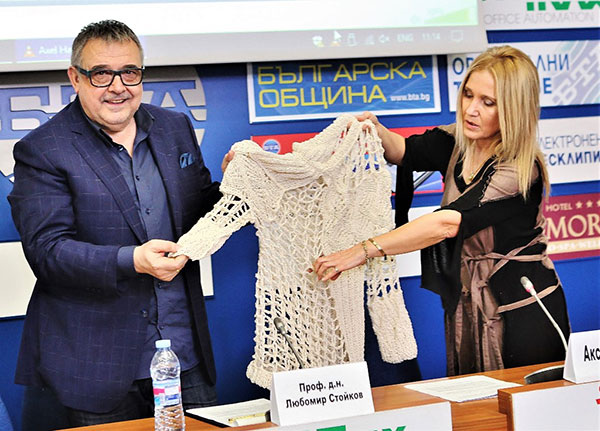 Prof. Lubomir Stoykov, President of the Academy of Fashion and host of the press conference, introduced the designer Axel Hardy, focusing on the importance of her innovative creative approach. He emphasized the contribution she has to the preservation of such a valuable craft, such as knitting and its adaptation to modern fashion. "Axel Hardy's collections have always been impressive with their unique and recognizable style," said Prof. Lubomir Stoykov and explained that this style is a mix of Bohemian-Chic, Funky Elements, Gothic, and Vanguard.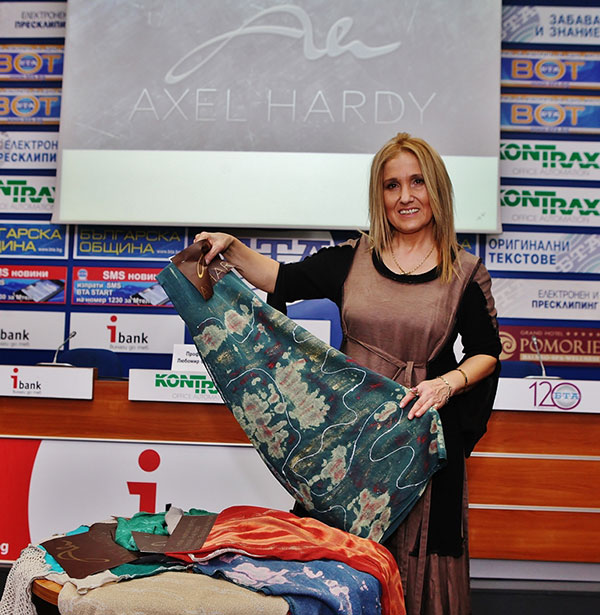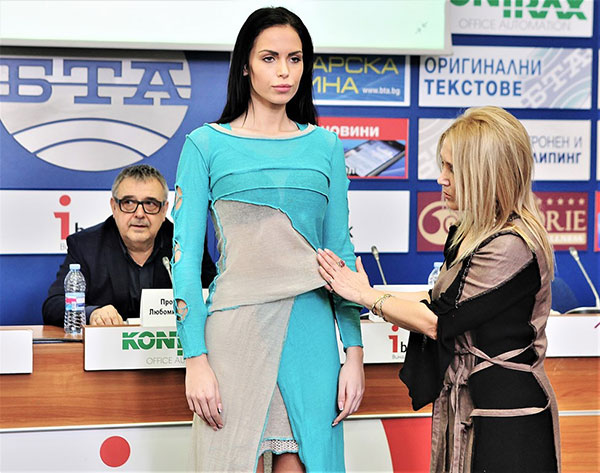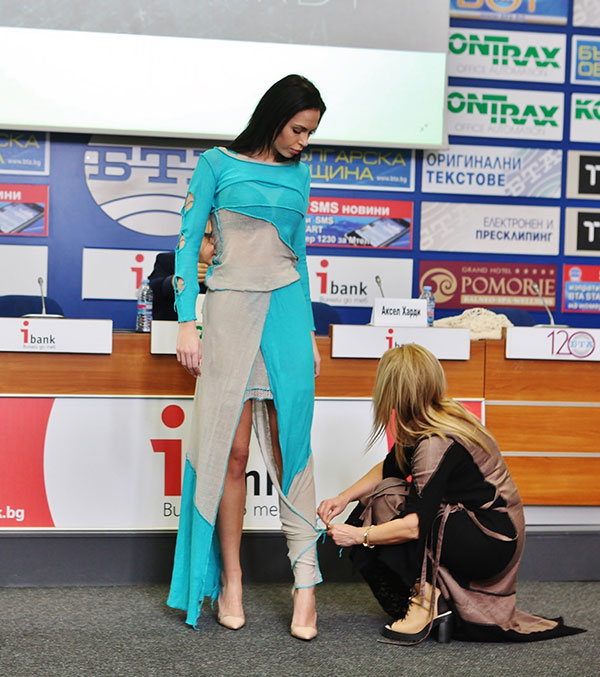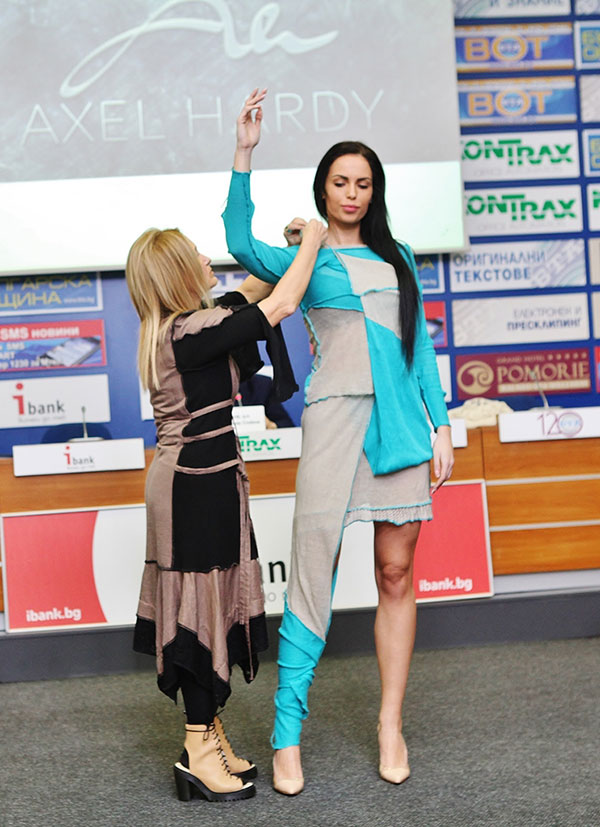 At the press conference, Axel Hardy demonstrated the transformation of a multifunctional dress from the "Infinite Imagination" collection, made from the innovative double-faced jacquard. It makes clothes multifunctional as a way of dressing and changing colors. The double-sided dress can also be worn as a skirt, while the cloak at the top becomes asymmetrical and changes into a tunic. The original jacquard knitting of the dress is designed with the sign of infinity, embedded in the two letters of the name Axel Hardy as a symbol of unlimited human possibilities and imagination. The designer also shows interesting transformations of a two-color set in natural and turquoise from "Sea Breeze" collection. The blouse can be worn as a sleeveless top and as a bolero, together and separately. The two-layer skirt (mini bottom and top max) can be transformed into a blouse, dress and tunic, as well as two-legged or one-legged trousers for a bold, asymmetrical look. Apart from the transformations of the clothes proposed by the designer, each lady can follow her own imagination and also experiment with different combinations. Selected garments from Axel Hardy's collections were presented by Iva Atanasova, Nikol Predyova and Antoaneta Boyanova - Lady Bulgaria World 2018.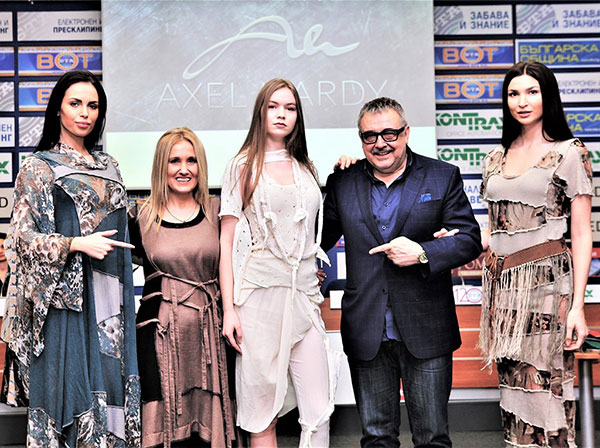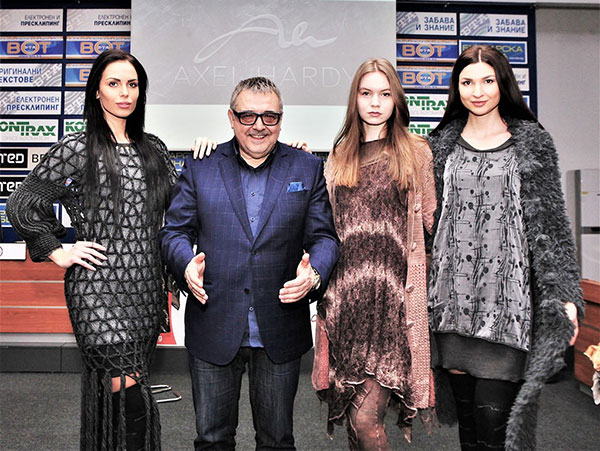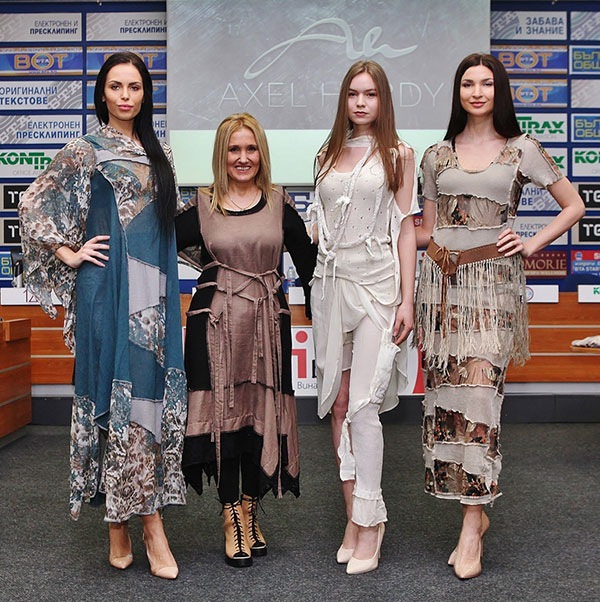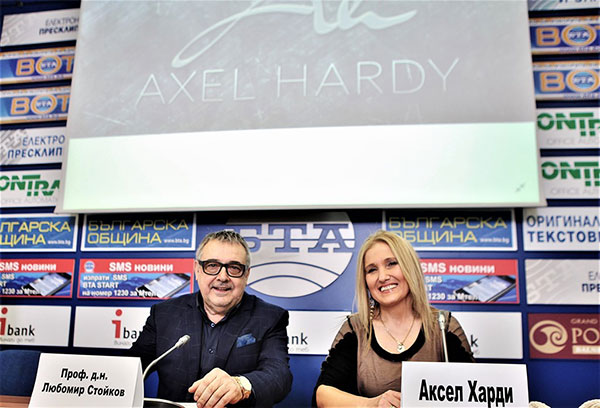 All the smart fabrics that the designer uses are natural thermoregulators produced in Bulgaria. During the press conference it became clear that Axel Hardy experimented with the mixing of fabrics, mixing differently as a composition of strands to create unique clothes. The designer combines traditional hand knitting on one, two hooks and high-tech machine braiding.
Typical of her style is the combination of knits and fabrics of natural raw materials. Among the innovative approaches of the designer is the creation of unique patchwork - a mix of different fabrics and knitwear. Unique for Axel Hardy is the combining of modules in the patchwork (as well as the individual elements of a garment) with a decorative overcloth, knitted by yarn.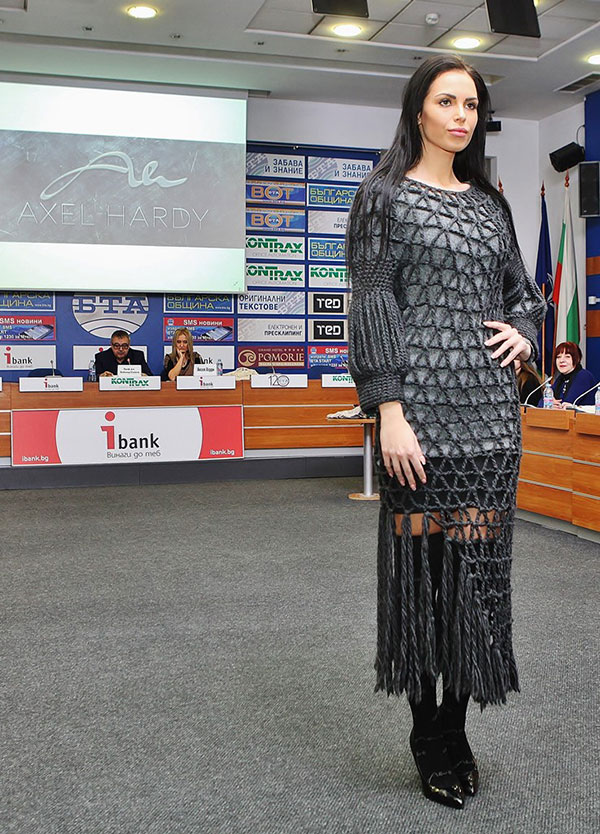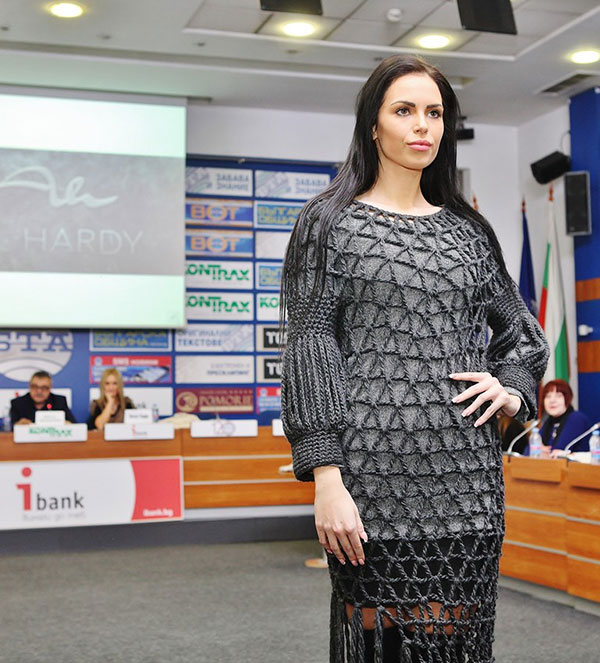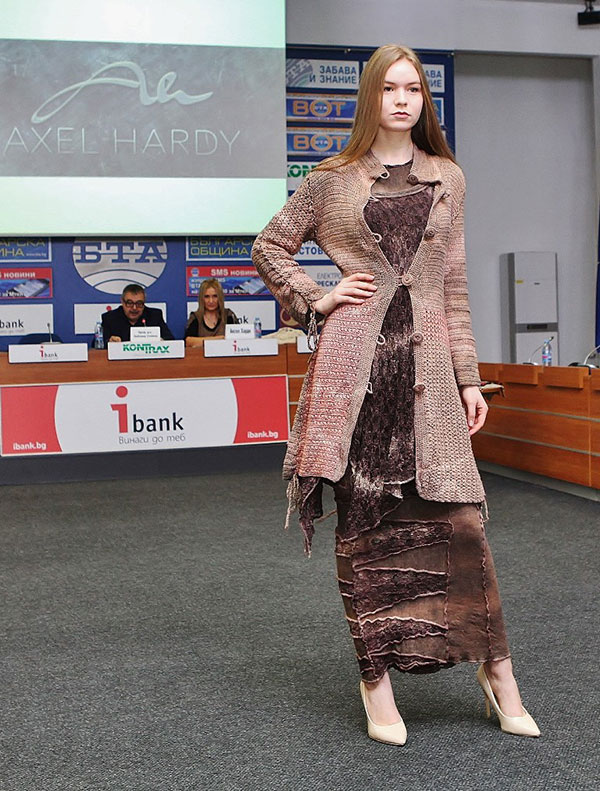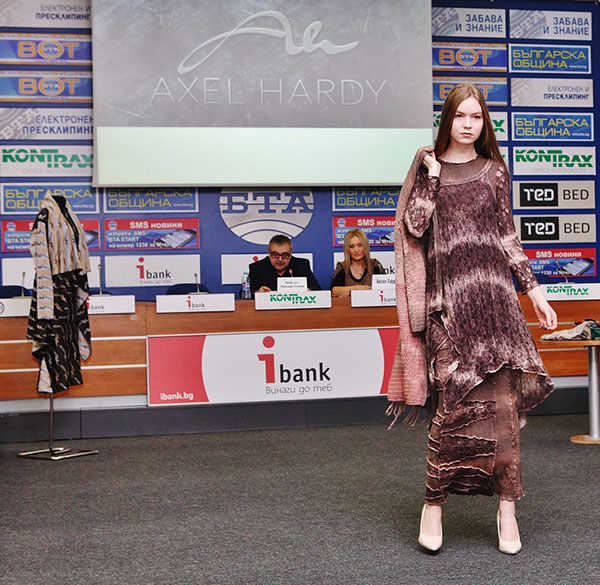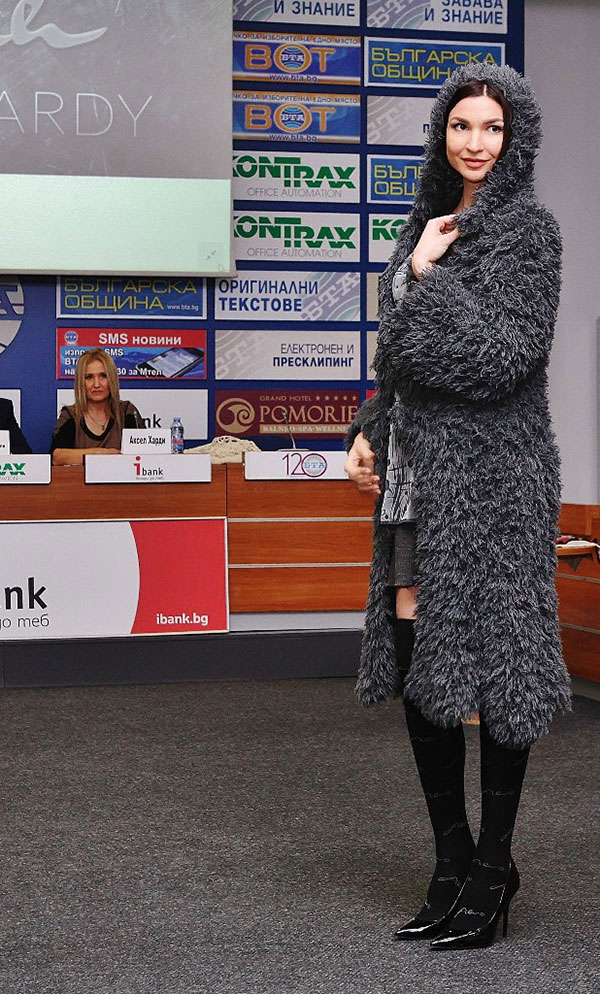 Through it, the effect of two faces is achieved in the garments. Again, the patchwork, which is currently returning as a trend, is at the heart of Axel Hardy's waste-free production. She herself said she did not throw away any piece of cloth, and they stimulated her imagination to create new clothes. Organic dyeing of fabrics is another area in which the designer uses innovative creative techniques. During the press conference, Axel Hardy demonstrated a new trend of "color abstractions". It is the result of a combined knitting technique created by the designer. Interesting "color abstractions" are achieved by step-by-step color removal and hand-painting on knitting. It is curious that organic dyes such as walnuts, elderberry fruit, maple leaves, mosses and lichens, onions, herbs, teas, etc. are used in dyeing. The designer personally combines dyeing on knitting and cloth, and it can also be done on a ready-made garment.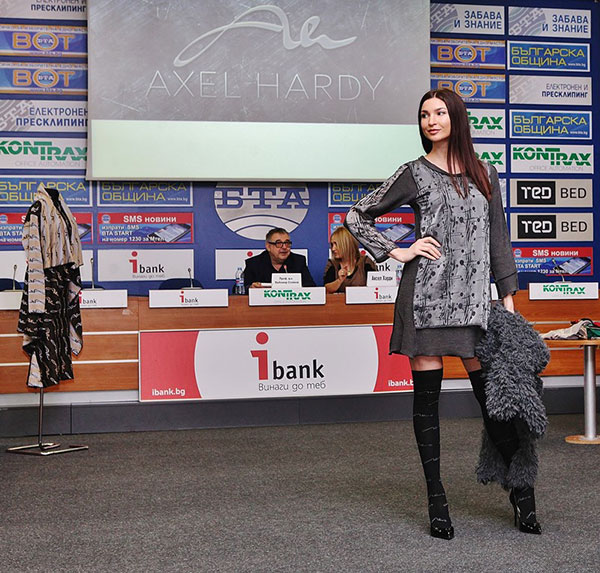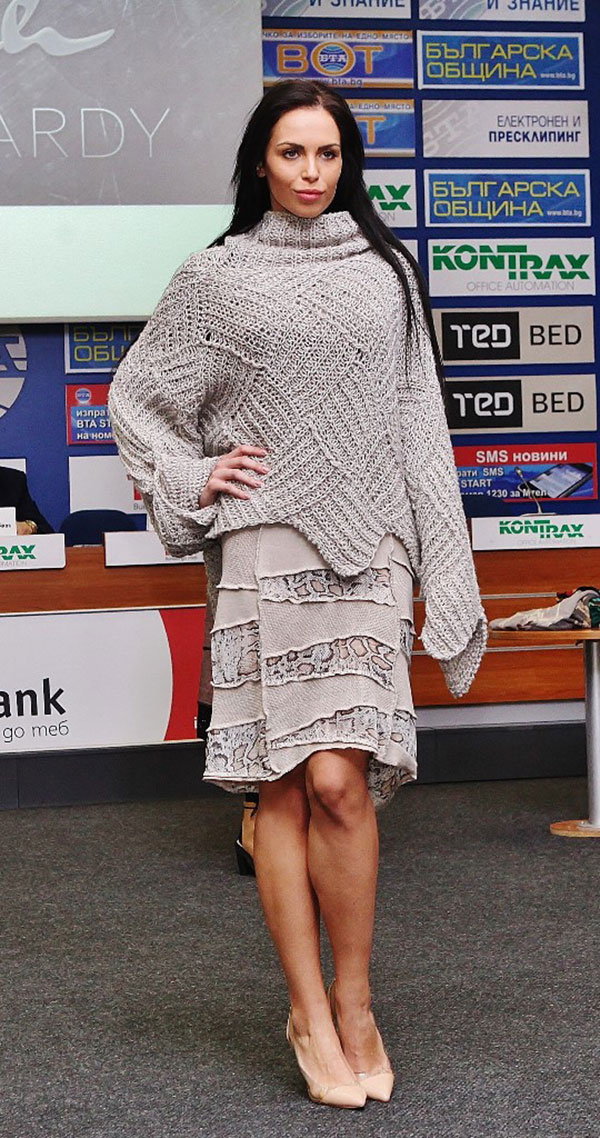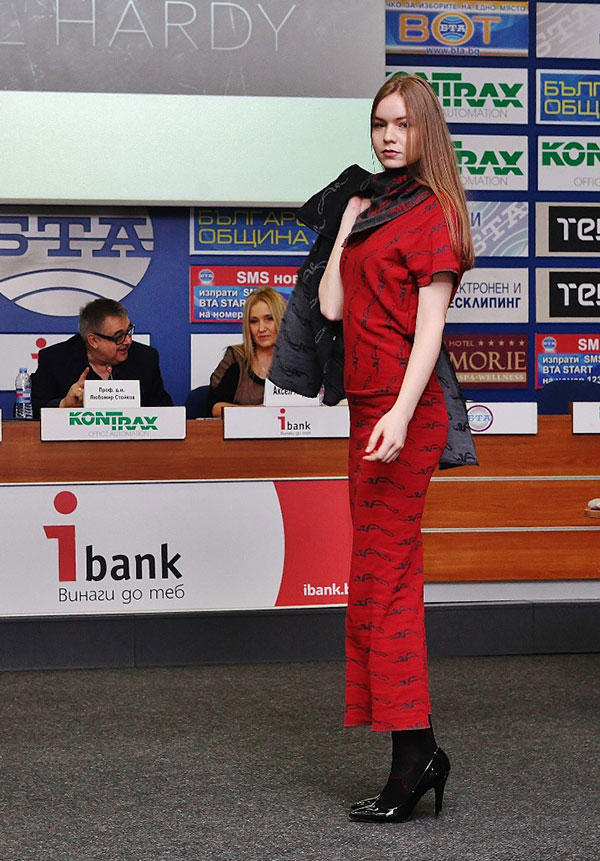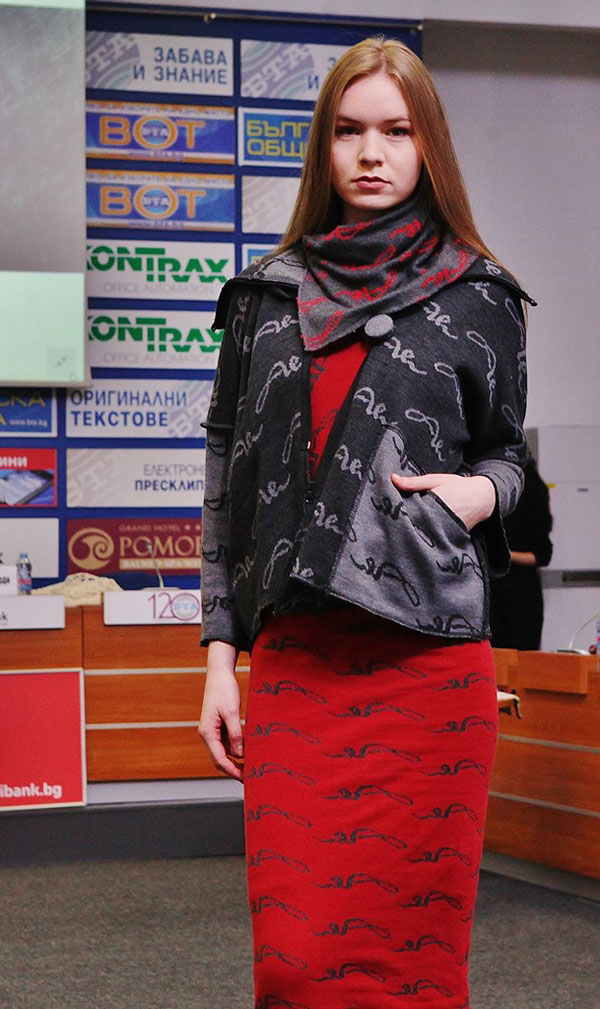 For autumn-winter season Axel Hardy relies on dense cotton, virgin fresh wool, alpaca, cashmere, natural silk and natural viscose made of wood. Her favorite raw material for spring and summer is flax, also soy (called vegan cashmere), bamboo viscose, natural silk.
These raw materials are also used as yarns for blending and braiding, and as fabrics. For summer, another favorite of the designer raw material is the highest quality cotton variety from Egypt - Mako, extremely soft with a fiber length of 34 mm. A new raw material as a trend that will be present in the Euphoria Collection is yarn of 70% industrial hemp and 30% cotton. This spring-summer season collection, Axel Hardy, will be shown for the first time in the upcoming fashion show by the Academy of Fashion - Golden Needle 2019 in March.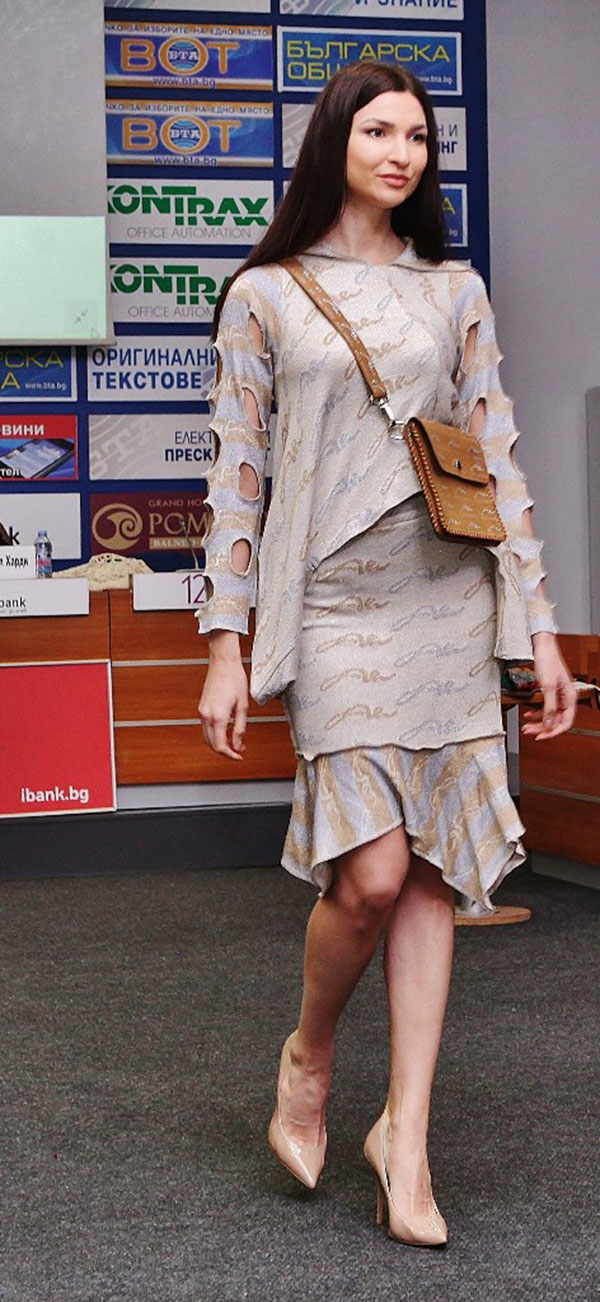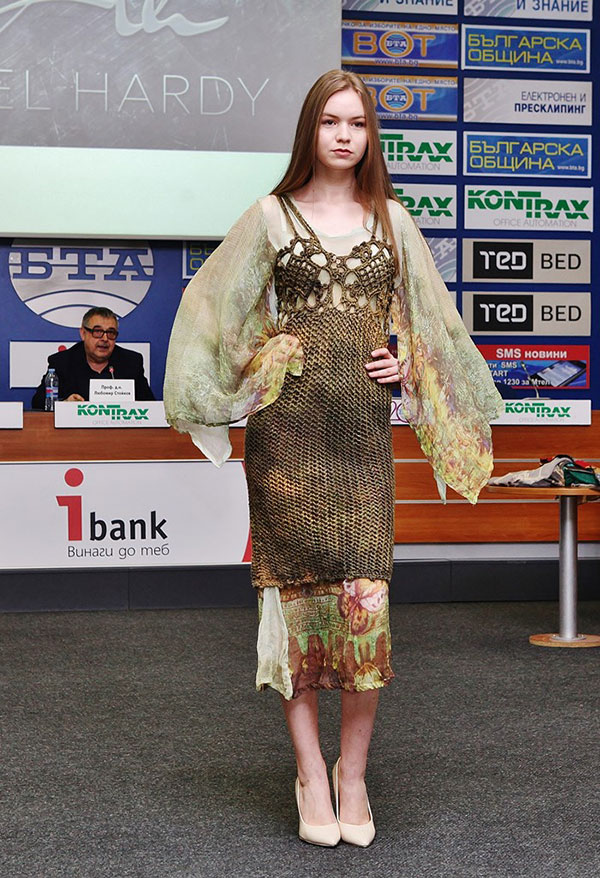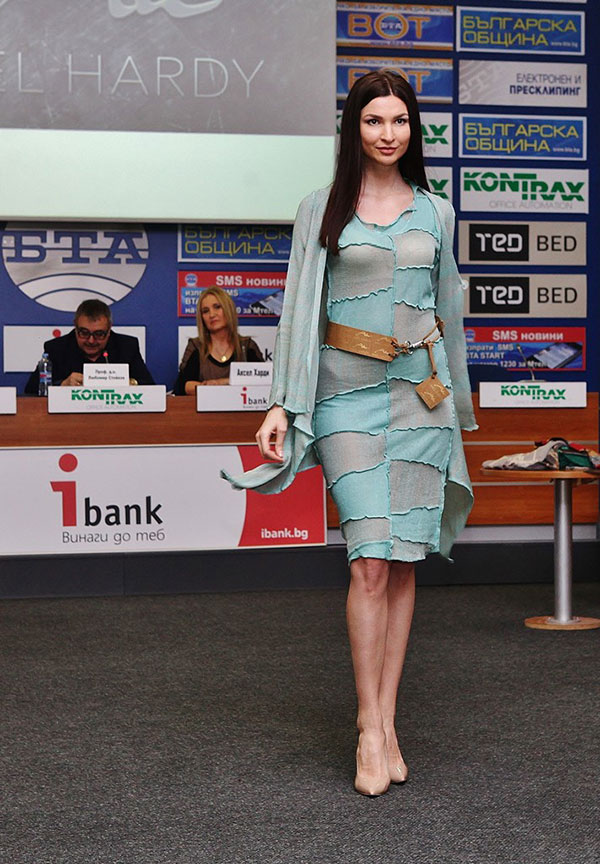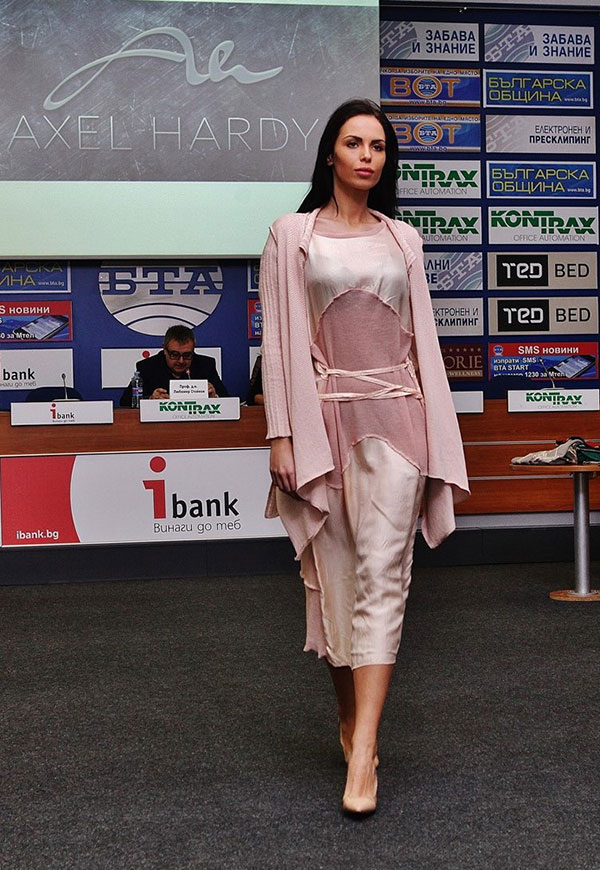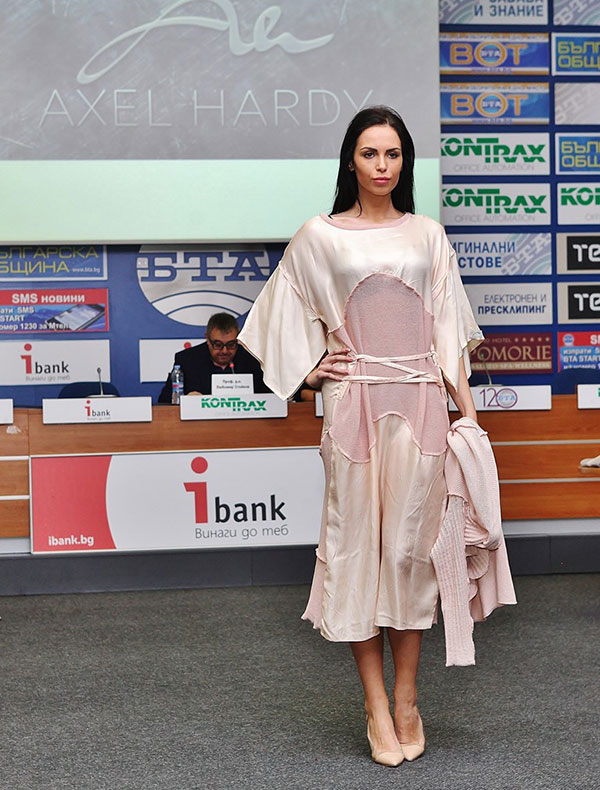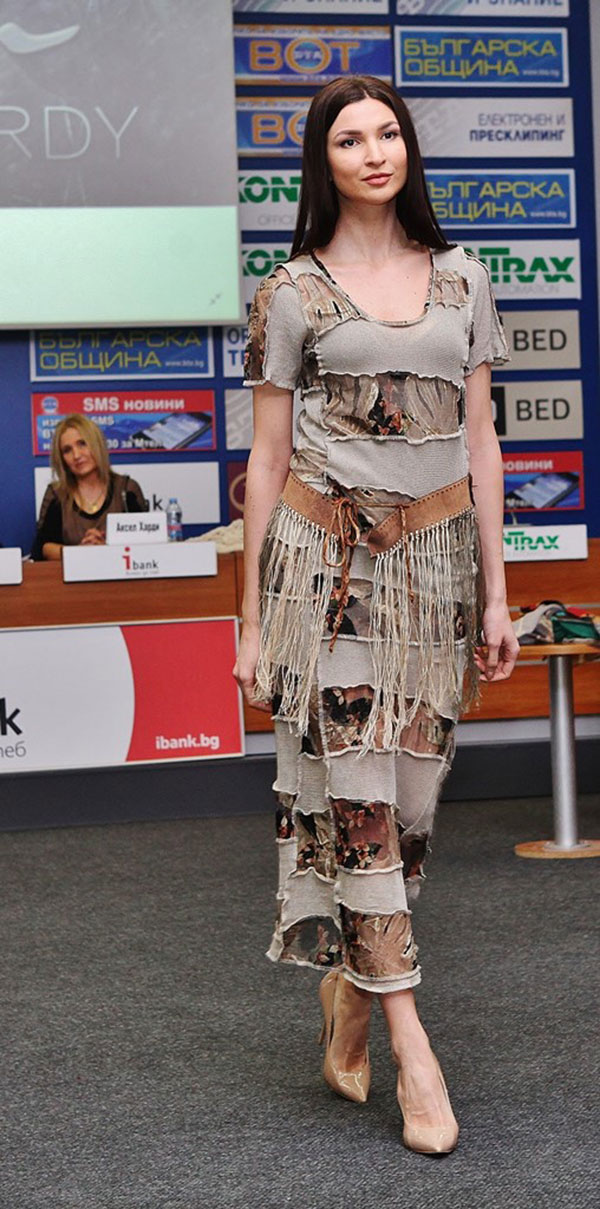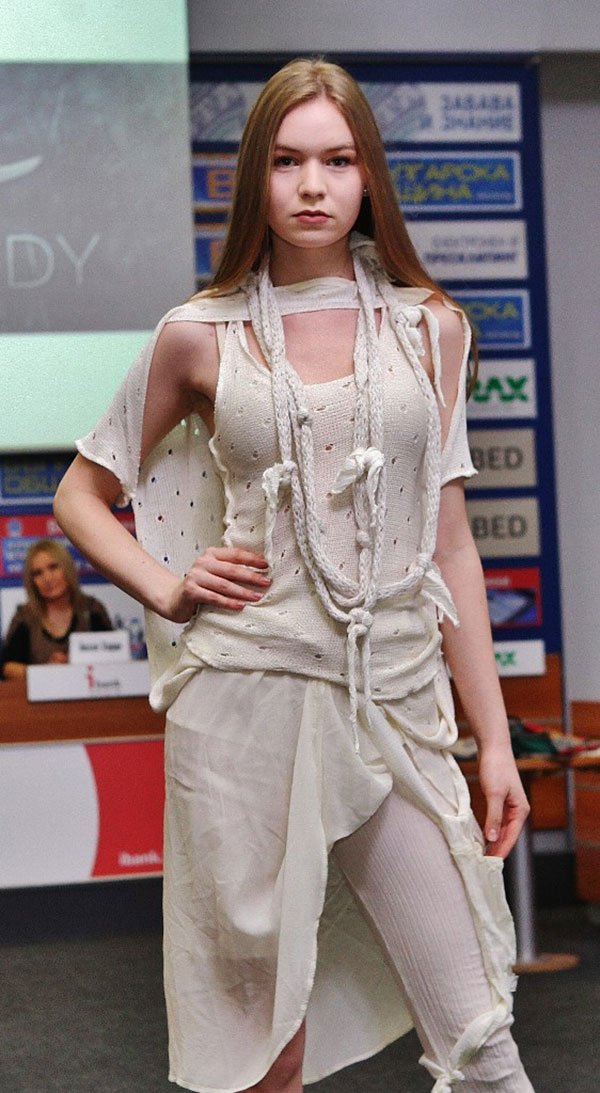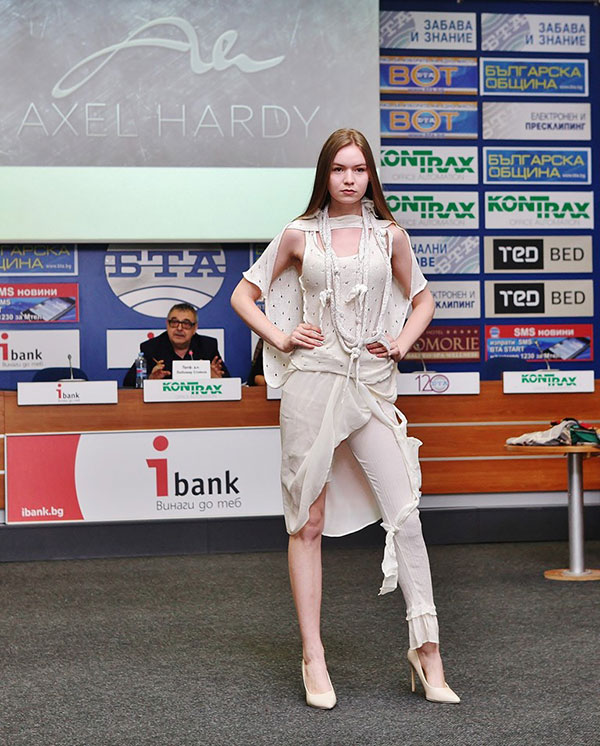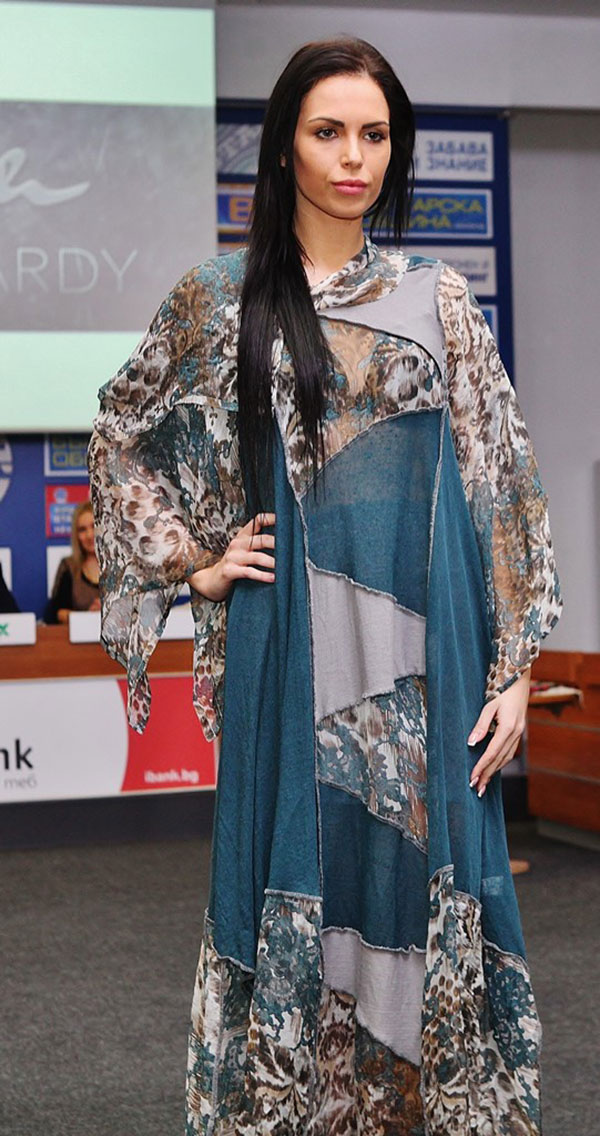 Photos:
1. Designer Axel Hardy.
2. Designer Axel Hardy and Prof. Lubomir Stoykov.
3. – 4. Designer Axel Hardy demonstrates double-faced jacquard.
5. Designer Axel Hardy demonstrates knitwear together with Prof. Lubomir Stoykov.
6. – 7. Designer Axel Hardy demonstrates the trend of "color abstractions".
8. – 10. Designer Axel Hardy demonstrates transformations of a multi-kit from the Sea Breeze collection.
11. Designer Axel Hardy and Prof. Lubomir Stoykov together with the models Antoaneta Boyanova, Nikol Predyova and Iva Atanasova, who presented the clothing of fashion house "Axel Hardy".
12. Designer Axel Hardy, together with the models Nikol Predyova, Antoaneta Boyanova and Iva Atanasova, who presented the clothing of fashion house "Axel Hardy".
13. Prof. Lubomir Stoykov together with the models Antoaneta Boyanova, Nikol Predyova and Iva Atanasova who presented the clothing of the fashion house "Axel Hardy".
14. Designer Axel Hardy, together with the models Antoaneta Boyanova, Nikol Predyova and Iva Atanasova, who presented the clothing of the fashion house "Axel Hardy".
15. Prof. Lubomir Stoykov and the designer Axel Hardy.
16. – 26. Axel Hardy's suggestions for the autumn / winter season.
27. – 34. Axel Hardy's suggestions for the spring / summer season.
Photo: © Hilife / Academy of Fashion
Read: 1576 times © Fashion Lifestyle Magazine, issue 100, February 2019
MORE PUBLICATIONS:

ISSUE 99:

GLAMOROUS FASHION SHOW FOR BG FASHION ICON 2018

ISSUE 98:

HRISTO CHUCHEV DRESSED CONTESTANTS AT LADY UNIVERSE

ISSUE 98:

STYLE AND BEAUTY IN THE SPECTACLE OF THE BG FASHION ICON

ISSUE 97:

HRISTO CHUCHEV TO SHOW HIS BRAND NEW COLLECTION AT SFW AW 2018

ISSUE 97:

JENI STYLE WITH DESIGNER EVGENIA ZHIVKOVA PRESENTS THE COLLECTION FANTASY AUTUMN / WINTER 2018/2019

ISSUE 97:

FANTASY AND PRACTICALITY IN EVGENIA JIVKOVA'S NEW COLLECTION